Ultra-Drop™ Drop-In Anchor
Type 304 Stainless
This internally threaded flush-mount expansion anchor features a knurled body that increases friction between the anchor body and the internal walls of the hole.
Downloads / Tech Flyer
Materials / Finishes
Zinc-plated carbon steel
Type 304 stainless steel
Type 316 stainless steel
Features and Benefits
Knurled body increases friction with the internal walls of the pre-drilled hole, increasing the anchor's holding power
Two-piece anchor compromised of internally threaded anchor body and expansion cone inserts — case-hardened expansion bullet inserts prevents galling and binding during expansion
Preassembled expansion bullet with a high-quality plastic cap that prevents bullet from prematurely falling out before and during installation
Internally threaded anchor allows for easy bolt removability and service work
Eliminates requirement for rod couplings in overhead applications
Anchor design offers consistent holding power in shallow embedment
Installation
Part Numbers
Catalog Number
Style / Type
Drill Bit Dia.
Thread Size
Anchor Length
Box Quantity
Carton Quantity
WDS14
Standard / No Lip
3/8
1/4 - 20
1
100
1000
WDS38
Standard / No Lip
1/2
3/8 - 16
1-5/8
50
500
WDS12
Standard / No Lip
5/8
1/2 - 13
2
50
500
WDS58
Standard / No Lip
7/8
5/8 - 11
2-1/2
25
200
WDS34
Standard / No Lip
1
3/4 - 10
3-1/4
25
150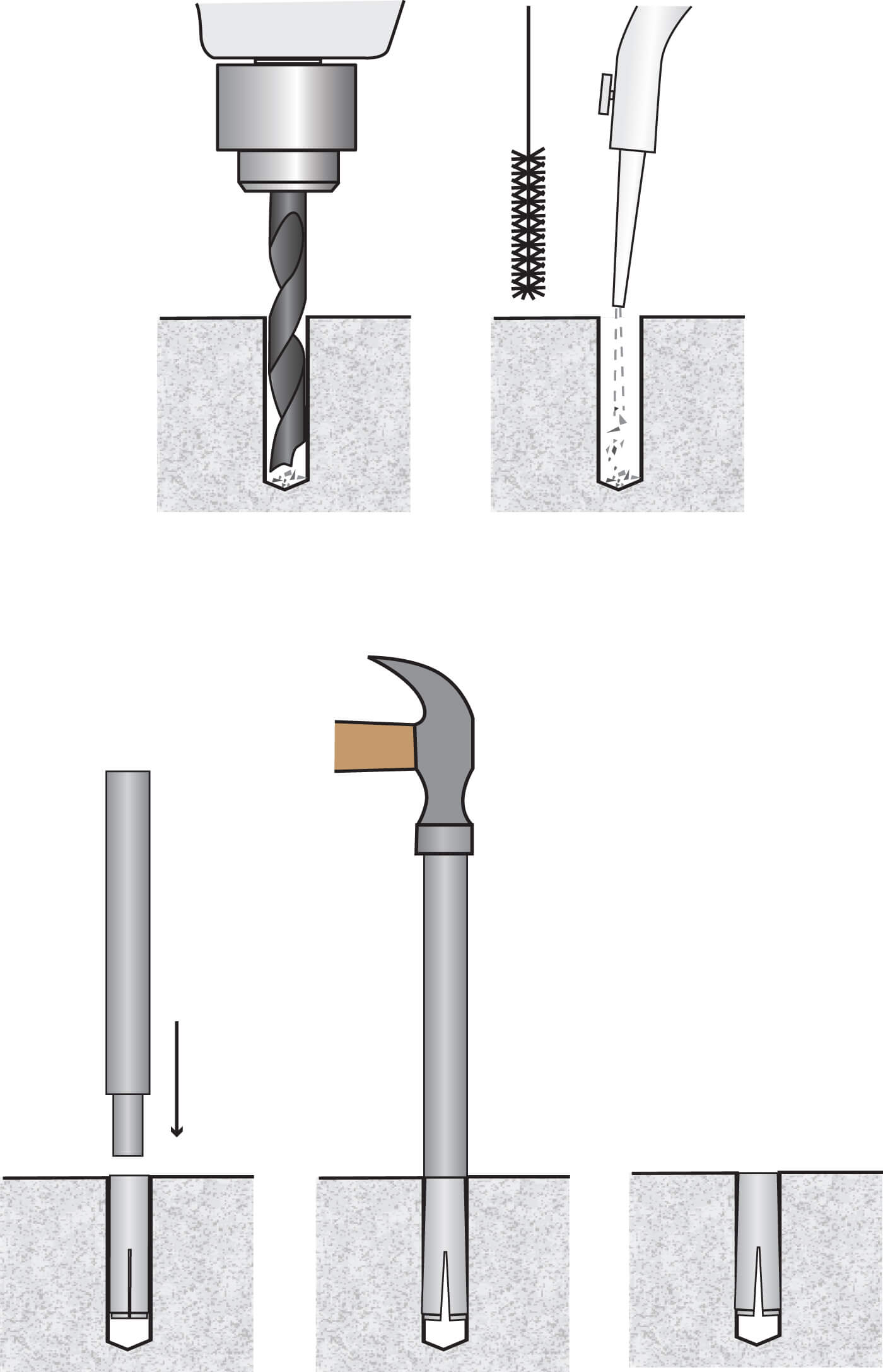 Select the proper size drill bit from the Maximum Tensile Chart on the Tech Specs tab. Drill the hole perpendicular to the work surface. To assure full holding power, do not ream the hole or allow the drill to wobble.
Drill the hole at least as deep as the full length of the anchor, but not closer than two anchor diameters to the bottom (opposite) surface of the concrete.
Clean the hole using compressed air and a nylon brush.
Tap the anchor, threaded portion last, into the hole. Make sure that the top of the anchor is flush with, or below, the level of the work surface.
Insert the setting tool into the threaded end of the anchor and expand the anchor by striking the end of the setting tool with a hammer. The anchor is set (fully expanded) when the shoulder of the setting tool touches the anchor.Full expansion is necessary for proper anchor performance.
The anchor is now ready to accept threaded hardware.
NOTE: Always wear safety glasses. Follow drill manufacturer's instructions. Use only solid carbide-tipped drill bits meeting ANSI B212.15 diameter standards.