POWER-Drop™ Drop-In Anchor
The POWER-Drop is an internally threaded anchor that can be used with tamper-proof bolts, machine screws, and a variety of male-threaded fasteners. The anchor has a safety shoulder to eliminate bolt-end collapse and clip slippage for a secure fasten.
Downloads / Tech Flyer
Materials / Finishes
Features and Benefits
Enlarged 3-dimple clip increases response in lightweight concrete and requires fewer rotations to achieve desired torque
360° segment contact on clip equalizes load distribution and increases load capacity
Unique safety shoulder supports clip under maximum and ultimate loads, preventing slippage
Internally threaded for easy bolt removability and service work
Numerous head style options
Installation
Part Numbers
Catalog Number
Drill Bit Dia.
Thread Size
Anchor Length
Min. Hole Depth
Box Quantity
Carton Quantity
PD38
1/2
3/8 - 16
2-5/16
3
25
200
PD12
5/8
1/2 - 13
3-3/32
4
10
80
PD58
7/8
5/8 - 11
3-13/16
5
5
30
PD34
1
3/4 - 10
4-5/8
5-3/4
5
30
PD1
1-1/4
1 - 8
5
6-1/2
5
30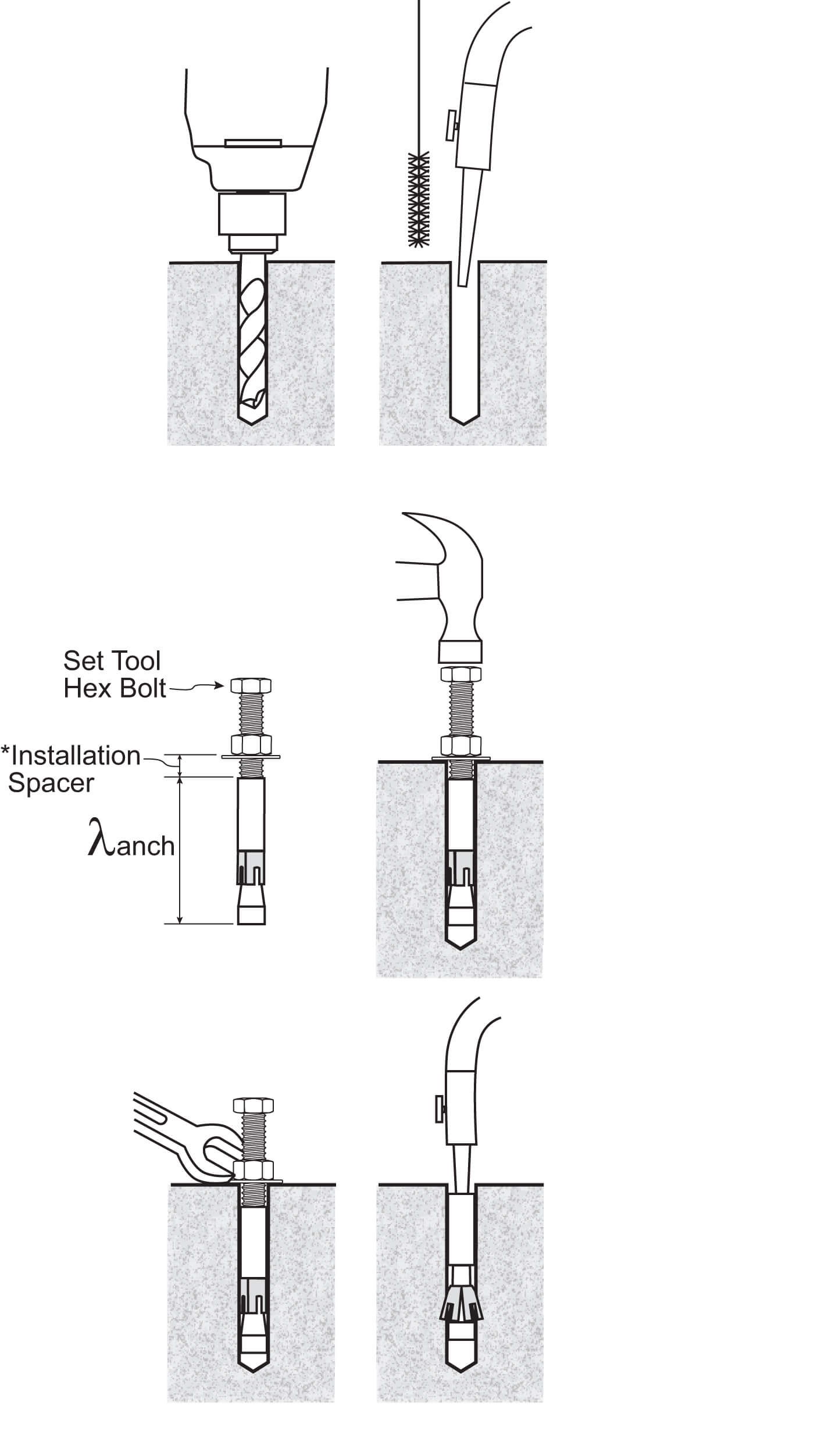 Select the proper size drill bit from the Maximum Tensile Chart. Drill the hole perpendicular to the work surface. To assure full holding power, do not ream the hole or allow the drill to wobble.
Drill the hole at least as deep as the full length of the anchor, but not closer than two anchor diameters to the bottom (opposite) surface of the concrete.
Clean the hole using compressed air and a nylon brush.
Tap the anchor, threaded portion last, into the hole. Make sure that the top of the anchor is flush with, or below, the level of the work surface.
Insert the setting tool into the threaded end of the anchor and expand the anchor by striking the end of the setting tool with a hammer. The anchor is set (fully expanded) when the shoulder of the setting tool touches the anchor. Full expansion is necessary for proper anchor performance.
The anchor is now ready to accept threaded hardware.
NOTE: Always wear safety glasses. Follow drill manufacturer's instructions. Use only solid carbide-tipped drill bits meeting ANSI B212.15 diameter standards.