POWER-Sert™ Adhesive Insert Anchor
Type 304 Stainless Steel
The POWER-Sert Adhesive Anchor is a proprietary internally threaded insert designed for use with structural adhesive. Our unique undercut design requires less adhesive and a shallow embedment while providing superior holding values
in a variety of materials. Our exclusive FRICTION-FIT™ locks adhesive in place and allows immediate fastening of the fixture during cure time*. The POWER-Sert adhesive insert anchor is the ultimate problem solver!
Downloads / Tech Flyer
Materials / Finishes
Zinc-plated carbon steel
Type 304 stainless steel
Type 316 stainless steel
Features and Benefits
Exclusive FRICTION-FIT™ design allows immediate fastening of fixture while adhesive cures*
Machine lathed from a single piece of steel or stainless steel providing no weak points
Does not apply expansion forces to base material, allowing shorter spacing and edge distance requirements
Vibration resistant
Easy installation
Uses half the amount of epoxy
Installation
Part Numbers
Catalog Number
Thread Size (UNC)
Drill Bit Dia.
Anchor Size
Min. Hole Depth
Box Quantity
Carton Quantity
PSS-38
3/8-16
1/2
1/2 x 2-3/4
3-1/4
50
400
PSS-12
1/2-13
5/8
5/8 x 3-11/16
4-1/8
25
200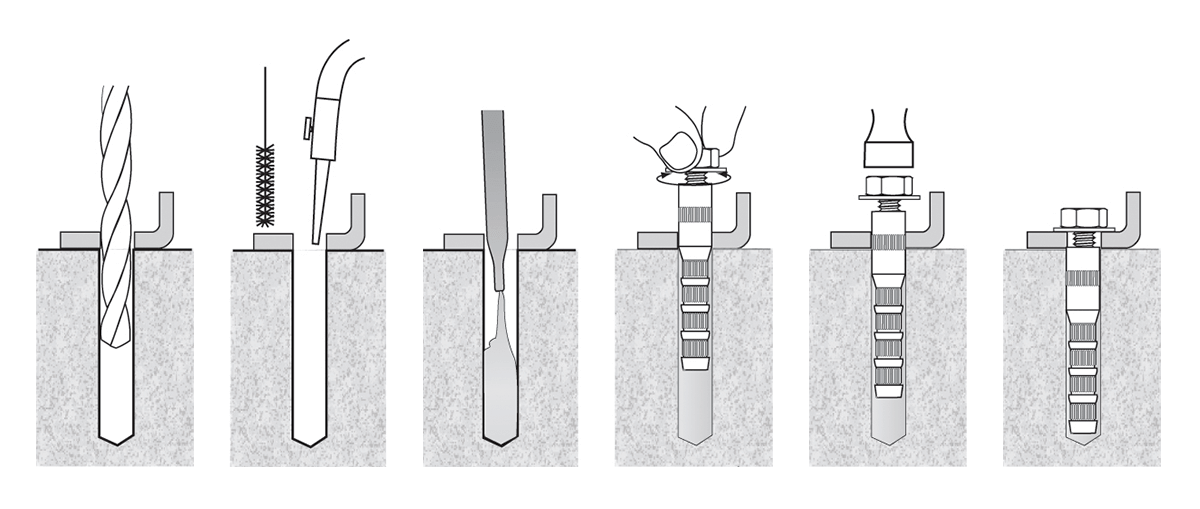 Select the proper size drill bit from the estimating guide. Drill the hole perpendicular to the work surface. To assure full holding power, do not ream the hole or allow the drill to wobble.
Thoroughly clean hole with oil-free compressed air and a stiff nylon or wire brush. Repeat cleaning process 3 times. Dust and debris left in hole will significantly reduce the holding capacity of the anchor.
Inject Inject-TITE Two-Part Structural Epoxy into hole to approximately
1/3 to half full. Fill from bottom of hole up. 1
Choose a bolt equal in length to the thread depth plus the material depth. Thread bolt into POWER-Sert anchor so that offset is equal to the thickness of material to be fastened. Insert POWER-Sert anchor into hole with slight twisting motion.
Drive anchor home with several sharp hammer blows to the head of the nut.
Allow epoxy to cure prior to applying maximum load.
NOTE: Always wear safety glasses. Follow the drill manufacturer's safety instructions.
Use only solid carbide-tipped drill bits meeting ANSI B212.15 diameter standards.